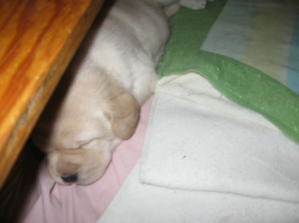 All of our breeding dogs are OFA/Penn on their hips/elbows and eyes cleared by CERF. Our lines include many show champions as well as Master Hunter titled dogs so that we keep the dual purpose lines going. Puppies are born and raised inside, and socialized around kids, cats and other dogs as well as lots of noises in a daily household. They are also exposed to different surfaces, taken for car rides and been in crates and agility tunnels! We spend alot of time with our puppies and they get a high quality diet, which includes kibble, fresh meat, fresh eggs and goat's milk. They will be wormed and have their first shots before going home at 8 weeks of age. We breed for our next show puppy and the next p
uppy choice order depends on when deposits are received.
We will post the announcement of our next litter when we have more details. Inquiries are welcome. Pet puppies are sold on limited registration and new owners must have a fenced in backyard. Below are pictures of previous puppies.
Kibble we feed our pups:
Eukanuba Growth Puppy Food
Pro Plan Lamb and Rice Puppy
Eukanuba Large Breed Puppy
Holistic Select Puppy
Kibble that are fed to our adults
:
Eukanuba Lamb and Rice
Pro Plan Sensitive Skin
Holistic Select Lamb or Large Breed Chicken
Purina One Salmon
Dog Chow Beef Adult
Our adult dogs get a rotation of fresh raw meaty bones, home cooked meat, veggies and rice mix, fresh green tripe and kibble on alternative days. Supplements include Vit. C, E, fish oil, vegetable oil, kelp and Nupro. This rotation has worked out well for the dogs. We have also started feeding the Honest Kitchen Dehydrated Whole Food for dogs "Thrive" with good results.
http://www.thehonestkitchen.com/
Typical home made mix is usually 1/3-1/3-1/3 mix of cooked hamburger, turkey, chicken or fish to steamed brown rice, quinoa, barley flakes or oat flakes, pureed veggies include-squash, romaine lettuce, apples, parsley, carrots, sweet potatoes, bell pepper, cucumber, cabbage, collards, green beans, kale, celery and spinach.
There are several raw feeder groups on Arizona. Here is a couple links of the groups I order food from:
Tucson Raw Feeders Group
http://www.southernazraw.com/raw/Home.html
http://www.tucsonraw.com/
http://greentripe.com/
In Phoenix but orders can be delivered to Tucson
http://pets.groups.yahoo.com/group/RedAngelRaw/
http://www.azrawbones.com/order/
Pet Club Feed Store- carries Honest Kitchen Dehydrated Whole Foods
http://www.thepetclub.net/locations.php
Honest Kitchen website
http://www.thehonestkitchen.com/products/thrive/
Kibble rotation is due to changes in formula by manufacture. What works now may not work once the manufacture changes the formula due to increase cost or availability in ingredients or recalls. If your dog is getting hot spots, ear infections or licks his paws, consider a change in diet. Also, during our hot summers here, I reduce the protein levels and feed less raw meat and fish oils.